Hi there! Welcome to my blog page. Here's a bit about me!
My name is
Anil Singh
. I born and brought up in
Kushinagar
(U.P.) India. I have done B.Sc(Math) and Master of Computer Application (MCA). I'm currently working as Technical Lead at Australian MNC and have earned total experience of 8+ years in different domain like Telecom, Legal and Casino Gaming industry. I have written over 1500+ technical articles on my blog http://code-sample.com. I also have a number of certifications including MCP, MCTS - 515 and MCTS - 513. My hobbies include - learning new technologies, blogging, writing and sharing knowledge using social media and so on.
Key Skills
- ASP.Net with C#, MVC, Web API 2, JavaScript, JQuery, TypeScript, Angular 4+ , Angular 2 and Angular 1.x, KnockoutJs, Kendo UI, WCF, WPF, SQL Server, LINQ, Entity Framework etc.
My Qualifications
– B.Sc. (Math), MCA
My Book:-
Angular 2 Interview Questions and Answers with TypeScript and Angular 4
My Certifications
- MCP, MCTS -515, MCTS - 513 and HIPPA.
My Blogs :-
My most recent professional blogs. You may also find my blogging at
Let's Connect!
I'm always happy to meet new public!
LinkedIn

|
Google+

|
Twitter

|
Facebook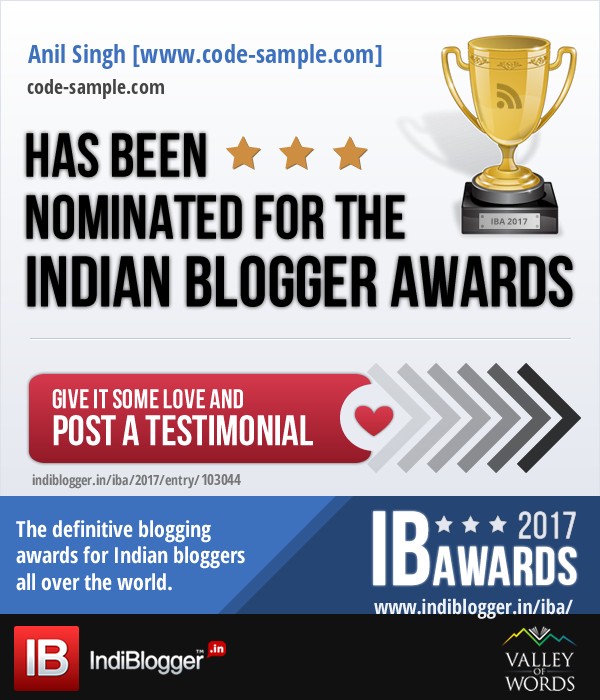 This Blog helps to the programmers and students be successful! Please do not hesitate to contact me, if you have any further questions. Otherwise, I hope that we can work together successfully another time. Em@il - anil.singh581@gmail.com .
Thank you so much for visiting my blog
J
You Might Also Like